Organization Overview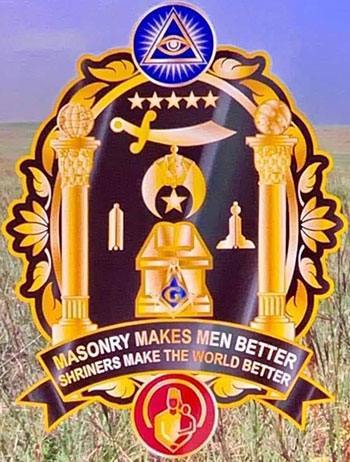 The Imperial Divan is the international governing body of Shriners International. The governing body works as a corporate Board of Directors and consists of 12 officers, each of whom is elected to the lowest position on the Divan and moves up one position each year, with the exception of the Imperial Treasurer and Imperial Recorder.
The highest leadership position within Shriners International is Imperial Potentate. The Imperial Potentate is both president and chief executive officer of Shriners International, and is elected for a one-year term. He spends his year in office visiting many of the Shriner temples (chapters), attending regional meetings and visiting Shriners Hospitals for Children locations. He also serves as Chairman of the Board of Directors for both Shriners Hospitals for Children and Shriners International.
A similar organizational structure is followed at the local level within each temple around the world.
Imperial Potentate Jeffrey L. Sowder
Jeffrey L. Sowder of Toronto, Kansas, is currently serving his 11th year as a member of the Boards of Directors for Shriners International and Shriners Hospitals for Children®. He was elected Imperial Potentate, part of the 12-member body that helps govern the Shriners fraternity, during the Shriners' 2019 Imperial Session - held in Nashville, Tennessee, June 30 - July 4.
Sowder was raised a Master Mason in 1975 at Toronto Woodson Lodge #121. He served as Master of his lodge in 1981, 1983, 1991 and 1992. After many Grand Lodge appointments, including District Deputy Grand Master, Area Deputy Grand Master, and Chairman of the Grand Lodge Membership Committee, and serving as an appointive Grand Officer on three separate occasions, he was elected Grand Junior Warden in 1994, and he served as Grand Master of Kansas in 1997.
Sowder became a member of Midian Shriners in Wichita, Kansas, in 1988 and served as the temple's Potentate in 2004. Sowder has served on many committees at the Imperial level, including the Pilot Implementation Team, Executive Membership Committee, and the Building and Equipment, East/West Shrine Game®, Strategic Planning, Donor Relations, TRAC, Ritual and Leadership Training and Education Seminars Committees. He has also been a presenter at the Imperial Membership, Oriental Guide and Assistant Rabban seminars.
Sowder served as the personal representative for the Wichita Scottish Rite Valley in Wichita from 2006 to 2009. He served on the board of the Kansas Masonic Foundation for 25 years and as its President from 2004 to 2011.
Sowder was born and raised on a ranch in Kansas. He operates four separate agricultural-related corporations - a 1,000-head cow/calf operation, a retail feed business serving ranchers throughout the Flint Hills of Kansas, a wholesale cattle mineral business with distribution in four states, and a multifaceted agricultural wholesale/retail business in Wichita.
Sowder and his wife, Cheryl, have been married for 45 years and have two daughters, Stephanie and Lindsay. Stephanie and her husband, Jamie Nelson, live near Toronto, Kansas, with their three children, Corinne, Sutton and Reid. Lindsay is married to John Hill, and they live in Fort Scott, Kansas, with their sons, JJ and Hudson.
First Lady Cheryl Sowder
Cheryl Sowder grew up in Eureka, Kansas, a town in southeast Kansas with about 2,500 residents. It's the kind of place where roots are strong; she has only moved once in her life, and that was to the nearby town of Toronto when she married Jeff. In November, they will have been married and lived in that home (which they have made additions to) for 45 years.
Cheryl's father was the district soil conservationist, and her mother was a secretary for the county health department. Cheryl was something of a tomboy, and enjoyed being outside and playing football and baseball with her older brother, Larry, and his friends. That outdoor spirit remains strong - Cheryl still loves to mow the lawn, work with her flowers and, most especially, go fishing with her grandchildren.
She grew up in a home where family was critically important, and guided by Christian faith and values. She learned the importance of giving to the less fortunate, making good grades in school and having a strong work ethic. Cheryl remembers her mother's advice: "Anything worth doing is worth doing right, and giving it your all." It's easy to see that Cheryl still lives by these principles, as does the entire Sowder family.
Getting to know her future husband
When the high school in Toronto closed, Jeff came to the one in Eureka as a freshman. He and Cheryl were aware of each other - she thought he was very smart and a sharp dresser - but it wasn't until their senior year when they were chemistry lab partners that they began to know one another better. Apparently, he liked to get her in trouble in class. One Saturday evening, Cheryl went to the movies with her girlfriends. Jeff was there, with his brand new car. He had gotten help from Cheryl's friends to make this "date" happen, as, according to Cheryl, he was afraid to ask her out. He got over that, they started dating, went to the Senior Prom together, and continued to date after high school, when she went to a nearby junior college and he left for college, thinking of possibly becoming an attorney.
College didn't really suit Jeff; nor did the idea of being a lawyer, sitting inside at a desk all day. He returned home after a year, and went to work for the family feed business (where he still works today - except now it's four allied firms - and more like a local conglomerate). A year later, after Cheryl graduated from junior college, Jeff proposed. They were married November 24, 1974.
Balancing family and career
Cheryl went to a work as a bank teller, taking time off when their daughters were born. In 1996, after working at the bank for 20 years and achieving the rank and responsibilities of vice president, she left to become an insurance agent for Farm Bureau Financial Services in Eureka. After 23 years, Cheryl still loves her work there because it allows her to "protect families, and help them achieve their goals and dreams."
Cheryl and Jeff raised two daughters who both grew up comfortable around the family business' steers and heifers, and active in every school sport offered to girls. The girls were surrounded with the love, support and presence of their parents. They are both college graduates with master's degrees, working, raising their own children, and making a difference in their communities. Stephanie is a teacher and 4-H leader. She and her husband, Jamie, have three children, Corinne, Sutton and Reid. Lindsay is a college volleyball coach. She and her husband, John, have two children, JJ and Hudson. When Cheryl has time, she enjoys nothing more than spending time with her grandchildren, whether it's making cookies or going fishing.
Supporting Masonry and encouraging the Ladies
Cheryl has been a part of Jeff's Masonic journey for 44 years. She clearly believes in both his leadership abilities and the Masonic values. At every stage, she has worked tirelessly to involve the ladies, and help them see how important their role can be, and what a difference they can make. She has also taken that message to the ladies of our nobles, especially through the ladies' program of the Membership Seminar, the Oriental Guide and Assistant Rabban Seminars.
As First Lady of Shriners International, Cheryl will continue her efforts to encourage and empower women to make a difference in the lives of children, and to strengthen the Patient Ambassador Program of Shriners Hospitals for Children®, helping these young advocates become better public speakers and letting them know how much they are appreciated. She truly believes that our patient ambassadors are the Heroes Among Us.