Organization Overview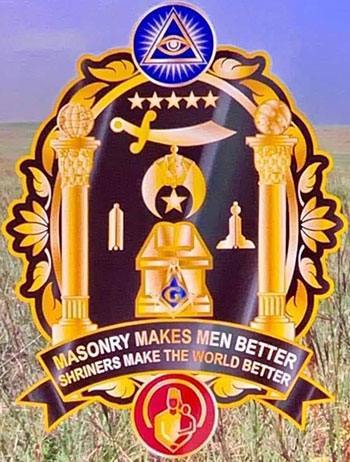 The Imperial Divan is the international governing body of Shriners International. The governing body works as a corporate Board of Directors and consists of 12 officers, each of whom is elected to the lowest position on the Divan and moves up one position each year, with the exception of the Imperial Treasurer and Imperial Recorder.
The highest leadership position within Shriners International is Imperial Potentate. The Imperial Potentate is both president and chief executive officer of Shriners International, and is elected for a one-year term. He spends his year in office visiting many of the Shriner temples (chapters), attending regional meetings and visiting Shriners Hospitals for Children locations. He also serves as Chairman of the Board of Directors for both Shriners Hospitals for Children and Shriners International.
A similar organizational structure is followed at the local level within each temple around the world.
Imperial Potentate Jim Smith & Lady Alice
Jim Smith named President of Shriners International
Wednesday, July 15, 2020 Imperial Potentate Jim Smith
On Saturday, July 11, James R. "Jim" Smith of Georgetown, Texas, was elected Imperial Potentate of Shriners International, part of the 12-member body that helps govern the Shriners fraternity, during the Shriners' 2020 Imperial Session in Tampa, Florida. As Imperial Potentate, Smith is the highest-ranking Shriner in the world, and serves as president of the Board of Directors of Shriners International and chairman of the Board of Directors of Shriners Hospitals for Children. This is Smith's 10th year as a member of the Boards of Directors for Shriners International and Shriners Hospitals for Children.
Getting to know Jim Smith A native of Racine, Wisconsin, Jim Smith spent his childhood summers on his father's family farm. "I really enjoyed that time. It was a great way to be raised," he said. Growing up, the importance of family and faith were deeply instilled – to this day, he continues to uphold the conservative values and Lutheran faith of his family. Smith received his bachelor's degree in business administration from the University of Wisconsin. He studied for his MBA at the Keller School of Management in Chicago. Jim Smith and his wife, Alice Smith, first met through a blind date. They were married 10 months later in Alice's hometown of Kilkenny, Minnesota, and will celebrate their 48th wedding anniversary in August. For more than 30 years, Smith worked in the material handling business. As his career with a conveyor systems company progressed, the family moved quite often, mostly to various cities in Wisconsin and Minnesota, but they also spent time in Illinois and on the East Coast. Eventually, they purchased a fuel company in Phillips, Wisconsin, which was their last move before retiring to Georgetown, Texas. The Smiths have a son, Jason, and a daughter, Abby, and five grandchildren. The fraternal tradition will continue in the Smith family for at least the next generation – both Jason and Abby's husband, Greg, are also Shriners. Smith's hobbies include traveling, barbequing and visiting with his grandkids.
The future of the Shriners Fraternity Smith became a Mason on Feb. 13, 1999, and a Shriner in 2004. He joined the fraternity as a way to acknowledge and give back to the organizations that assisted a nephew who had orthopaedic difficulties, and received care at Shriners Hospitals for Children — Chicago throughout his childhood. Smith first joined Zor Shriners in Madison, Wisconsin. When the family moved to Georgetown, Texas, Jim joined Ben Hur Shriners in Austin, where he participated in the Provost Guard and helped transport children to and from the Texas Shriners Hospitals. He also sat on the Board of Governors for the Houston Shriners Hospital. In 2009, Smith served as Potentate (president) of Ben Hur Shriners. That year, the temple (chapter) had a balanced budget for the first time in many years and was awarded a Gold Membership Award for a net gain in membership. It was the first time Ben Hur Shriners had achieved gold status in 38 years. Smith became a member of the Shriners' Boards of Directors to make a difference. "I really thought I could help," he said. "We need to strengthen the temples and ensure they are places where people want to go, and are welcomed." Smith believes the fraternity needs to emphasize and focus on its original purpose of bringing fun and fellowship to a Masonic organization. "When the Shriners fraternity started in 1872, its purpose was fun and fellowship," said Smith. "We did well with that – but we've lost our focus. As Imperial Potentate, I will try to put Fun and Fellowship back in the fraternity.
Join Imperial Potentate Jim Smith & First Lady Alice on their Danube River Cruise from Prague to Budapest DEPARTING OCTOBER 8 FOR 11 DAYS / 10 NIGHTS https://www.abstravelgroup.com/imperial2021.html
First Lady Alice Smith
Shriners Hospitals for Children® is committed to providing what we call wrap-around care. It means we maintain a family-centered approach and are concerned with our patients' overall health and well-being.
This can mean different things for different patients. It can include finding ways to help them play with their friends, enhance their education, enjoy a hobby and live more independently. The staff of Shriners Hospitals for Children is known for taking the time to listen to our patients and families, learning of both their medical needs, as well as their hopes and dreams.
First Lady Alice Smith believes that giving our patients every possible advantage and opportunity to achieve helps them to become Rising Stars, and she is dedicated to strengthening their incredible spirits and abilities, helping them to have full, satisfying and productive lives.
TREATING UNIQUE NEEDS To help each child who comes to Shriners Hospitals for Children become as independent as possible, we often introduce and provide assistive devices, especially through our various therapy programs. We provide our patients with physical, occupational, speech and recreational therapy.
Assistive devices can range from items to help learn or regain the ability to walk, to computer-driven augmentations for those with speech difficulties, to items that help children learn to feed or dress themselves. Assistive devices also include mobility aids, such as crutches, walkers and wheelchairs. We can also customize the devices to fit the specific needs of individual patients. The Rising Stars fundraising program will support these efforts.
INTEGRATING TECHNOLOGY We also use assistive technology in our therapy programs, through the availability of various systems such as body weight supported gait training and functional electrical stimulation bikes. We are also concerned with our patients' quality of life, and work to provide, or make them aware of, adaptive recreation opportunities and items to provide additional kidfriendly mobility, such as adaptive toy cars or bikes.
"We all want our children to be happy and successful," said Lady Alice. "I want to help our patients move from the Shriners Hospitals system to successful, independent adult lives."
Lady Alice invites you to join her in supporting Shriners Hospitals for Children's efforts to provide our patients with appropriate assistive devices as well as skills they can use for a lifetime. Donors may purchase a unique necktie or bow tie, a beautiful bracelet bead or an elegant necklace featuring a beautiful star, or they may make donations online. Thank you for your compassion, generosity and support of Shriners Hospitals for Children.
To us, all of our patients, and their families, are Rising Stars. We are proud to support the availability of adaptive and assistive technology that helps them achieve their goals and become as independent and self-sufficient as possible. To see more about this program visit www.lovetotherescue.org/first-lady-program or www.shrinershospitalsforchildren.org