SUEZ Shrine Clubs
Abilene Shrine Club - Abilene, TX
Meetings: 1st Monday, 6:30PM
5272 Jarman Rd
Abilene, TX 79604
Phone: (325) 537-2420
President: Tim Dillon P.P. (Nancy)
Secretary: Donnie Vanador (Debbie)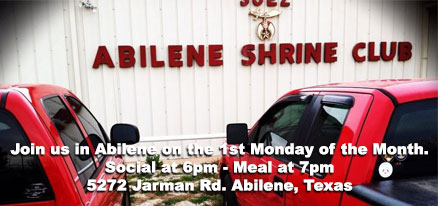 Join us for our Monthly Social on the 1st Monday of the Monday. Social begins at 6:oopm with a Meal at 7pm. 5272 Jarman Rd
Meetings: 1st Monday / 6:30 pm Be sure to check out our the Abilene Shrine Club facebook page at: https://www.facebook.com/abileneshrineclub
Concho Shrine Club - San Angelo, Texas
Meetings: 3rd Friday of Every Month
Suez Shrine Center
San Angelo, Texas 76904
Phone: 325-949-0551
President: Bob Rogers (Kathleen Hicks)
Secretary: James Caillouet (Recorder Suez)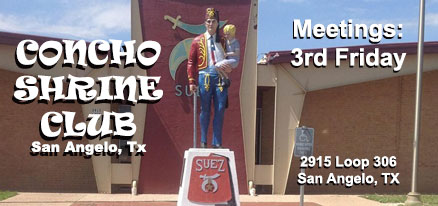 We have our Monthly Socials on the 3rd Friday @ 6:30 pm of every month at: Suez Shrine Center in San Angelo TX 2915 Loop 306 San Angelo, TX 76904
Heart of Texas Shrine Club - Brownwood Texas
Meetings: 4th Tuesday - Brownwood Country Club
3600 County Road 295
Brownwood Texas 76432
Phone: (325) 642-6281
President: TBD
Secretary: Harvey Kaase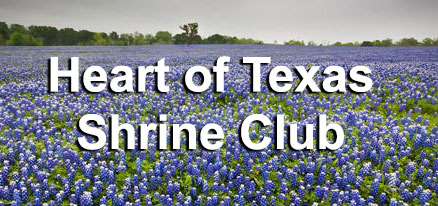 The Heart of Texas Shrine Club serves Brownwood/Early and they do not have a dedicated building. Please call before you arrive. They meet at the Brownwood Country Club on the 4th Tuesday of the month.
Heart of Texas Shrine Club Call for meeting Meetings:4th Tuesday / 6:30 pm
Midland Shrine Club - Midland, Tx
Meetings: 3rd Thursday - 6:30pm
2019 Trade Dr
Midland, Tx 79708
Phone: 432-528-8768
President: TBD
Secretary: TBD

What a great club out West. It may take some a long drive to get there but you will be glad that you made the trip. The Midland Shrine Club is located at 2019 Trade Dr, Midland, Tx. Monthly Socials are held at 6:30pm on the 3rd Thursday of the month.
Treasurer: Paul Klein P.O. Box 80203 Midland, TX 79708 3rd Thursday / 7:00 pm Dark: June/July/August
Nolan County Shrine Club - Sweetwater, Texas
Meetings: 1st Tuesday 6:30pm (dark Jun-Aug)
PO Box 1232
Sweetwater, Texas 79556
Phone: 325-450-3928
President: TBD
Secretary: Tommy White P.P. (Carol)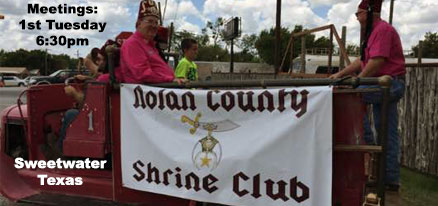 Nolan County Shrine Club
Secretary / Treasurer: Tommy White P.P. P.O Box 1232 Sweetwater, TX 79556 Meetings: 1st Tuesday / 6:30 pm Dark: June/July/August