SUEZ Shrine Clubs
Abilene Shrine Club - Abilene, TX
Meetings: 1st Monday, 6:30PM
5272 Jarman Rd
Abilene, TX 79604
Phone: (325) 537-2420
President: Kim Williamson (Julie)
Secretary: Ron Houghton (Christy)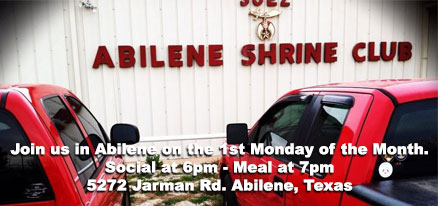 Join us for our Monthly Social on the 1st Monday of the Monday. Social begins at 6:oopm with a Meal at 7pm. 5272 Jarman Rd
Pres – Kim Williamson, 1st VP – JC Welch 2nd VP – Mitt Chorn Sec/Trea – Ron Houghton Director – Mike Sherman Director – Donnie Vanadore Director – PP Tim Dillon Director – JB Cloud Director – PP Barney Johnson Ex-Offico – Steve Shepherd
Be sure to check out our the Abilene Shrine Club facebook page at: https://www.facebook.com/abileneshrineclub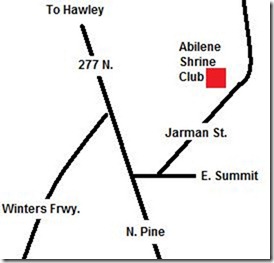 Concho Shrine Club - San Angelo, Texas
Meetings: 3rd Friday of Every Month
Suez Shrine Center
San Angelo, Texas 76904
Phone: (325) 481-3239
President: Ken Prescott (Jackie)
Secretary: James Caillouet (Rachel)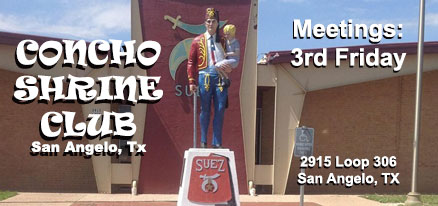 Head down for Stated and come back for the Concho Shrine Club meetings. We have our Monthly Socials on the 3rd Friday of every month at the Suez Shrine Center in San Angelo.
Heart of Texas Shrine Club - Blanket, Texas
Meetings: 4th Tuesday - Brownwood Country Club
3600 County Road 295
Blanket, Texas 76432
Phone: (325) 642-6281
President: Carl Smith
Secretary: Jimmie Sharp PP (Teenie)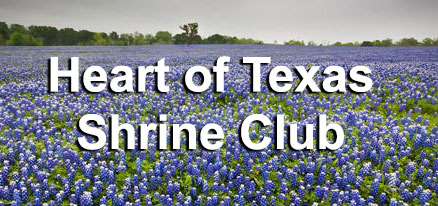 The Heart of Texas Shrine Club serves Brownwood/Early and they do not have a dedicated building. Please call before you arrive. They meet at the Brownwood Country Club on the 4th Tuesday of the month. Monthly Socials have been temporarily suspended due to covid.
Midland Shrine Club - Midland, Tx
Meetings: 3rd Thursday - 6:30pm
2019 Trade Dr
Midland, Tx 79708
Phone: (432) 556-8504
President: Bill Dormady
Secretary: Danyl Dormady
What a great club out West. It may take some a long drive to get there but you will be glad that you made the trip. The Midland Shrine Club is located at 2019 Trade Dr, Midland, Tx. Montlhly Socials are held at 6:30pm on the 3rd Thursday of the month.
Nolan County Shrine Club - Sweetwater, Texas
Meetings: 1st Tuesday 6:30pm (dark Jun-Aug)
PO Box 1232
Sweetwater, Texas 79556
Phone: 325-669-2144
President: Micah Spencer (Dustanna)
Secretary: Tommy White (Carol)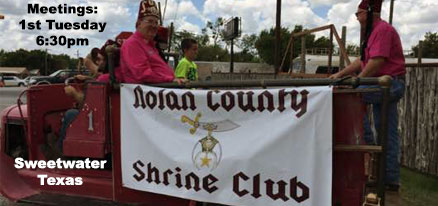 2019 Officers
President - Micah Spencer Lady Dustanna
Vice President - Herman Rivera Lady Michelle
Sec/ Tres. - Tommy White Lady Carol
Snyder Shrine Club - Snyder, TX
Meetings: 2nd Tuesday - 6:30PM
P.O. Box 206
Snyder, TX 79549-0206
Phone: (325) 573-5233
President: Dalton Walton (Linda)
Secretary: Dalton Walton (Linda)
Tri-Cities Shrine Club - Eldorado, Tx
Meetings: Quarterly
PO Box 1056
Eldorado, Tx 76936
Phone: (325) 853-2670
President: Danny Crowder (Libby Preston)
Secretary: Danny Crowder (Libby Preston)