We have lots of Units to find your FUN!
Suez is made up of many different people and interests. Many members have formed various "clubs" or "groups" that specialize in certain areas of interest, such as clown units, band units, golfers, RVr's, Go-Karters, Pistol Shooters, just to name a few. Some of these units compete with other Shrine Centers through out Texas and /or they gather frequently to participate and practice in their specific areas. There are lots of activities and there certainly is something for everyone, so get involved with one or more, or even start up a new one! Activities range from 1/2 day events, to a week or more, in locations well known and some that you may have to take a back road or two. Through out the year, different units have different functions, so there is ALWAYS something going on. Be sure to find a few you like, and JOIN IN!
Some units meet monthly to practice or discuss event planning or they may be just visiting each other. The men and ladies of these units are the heartbeat of SUEZ. If you have a special interest that you feel others may also enjoy, feel free to try to start one up!
Most of our units are active in parades and other activities throughout the surrounding areas.
We have something for everyone no matter where you live in West Texas.
Units in Your Area:
Ala Karts - Midland, TX
Meetings: TBA each month
P.O. Box 404
Midland, TX 79701
Phone: (432) 559-5530
Unit Head: Danyl Dormady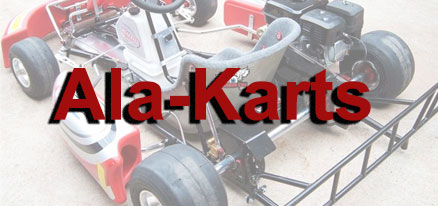 The Ala-Carts are a Go-Cart unit based out of the Midland Shrine Club. We have 5 carts and we are looking for riders. We can have as many riders as we want. Our goal is to get back up and going so we can practice and compete. This is a load of fun and we are waiting for you. If you are in the Midland area and want more information or you want to take a ride with us, call Danyl Domady at 432-559-5530
Golfers - San Angelo, Tx
Meetings: TBA
Suez Shrine Center
San Angelo, Tx 76904
Phone: (325) 949-0551
Unit Head: Coming Soon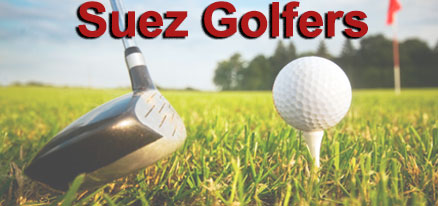 The Golfers Unit used to be over 33 members strong and over time has had several members move away, pass on or become no longer able to participate. We are working on getting the Golfers back together. Come to Stated Meetings in San Angelo to find out more.
Abilene Klowns - Abilene, TX
Meetings: TBA each month
P.O. Box 404
Abilene, TX 79601
Phone: (325) 201-3126
Unit Head: Bobby Holland, President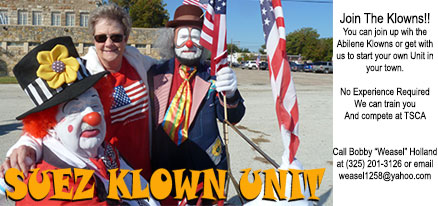 The Abilene Klown Unit is still collecting dues for 2017. A big Thank You goes out to Dianne & Rick "Snuffy" Jones, McElroy Metals and Metal Mart in Clyde for their large donation to the Abilene Klown Unit. The money will be used to fix up the Model Ts carts. JB "Jellybean" Cloud received donations of extra clown makeup cases for anybody that needs one. The extras will be stocked and given to new Klowns that join. The next parade that we have on the schedule is the Western Heritage Classic Parade in Abilene on May 11th at 6:30pm. Thank you to our Donors, Clyde Feed Store, Hamilton Supply, Abilene Filtration Specialists, Mrs Betty Johnson, Damon Albus & 5D Custom Hats & Leather and NAPA Auto Parts in Abilene. Bobby "Weasel" Holland weasel1258@yahoo.com
Provost Guard - San Angelo, Tx
Meetings: TBA
Suez Shrine Center
San Angelo, Tx 76904
Phone: (325) 260-7885
Unit Head: Rick Jones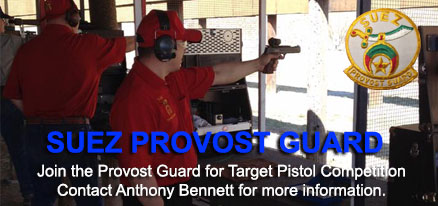 The Suez Provost Guard competed at Mid-Winter in Corpus Christi March 25th. Suez won 2nd in a Class, Sammy Stewart won High Point Over 70, Harvey Kaase won High Point Open and Tammy Shanks won 2nd in the Women's Division. We still need more shooters. The Provost Guard will attend the next competition on June 16th at TSA in Waco. Rick Jones is considering running for a spot on the State Provost Guard Line and Abilene could be hosting a State Shoot in 2018. Shooting enthusiasts of all levels are encouraged to participate. If interested, call Provost Marshall Rick Jones at 325-260-7885.
Joe Moss - Abilene, Tx
Meetings: We Don't Meet
Everywhere
Abilene, Tx 79601
Phone: NA
Unit Head: Joe Moss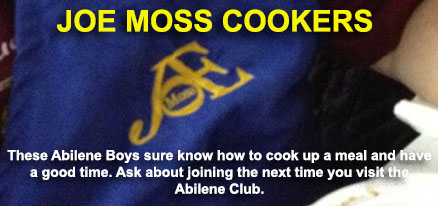 What is Joe Moss? Joe Moss is a group of Masons and Shriners in Abilene that started up on a whim. We are not an official club or unit and we do many things. One of things we get requested to do a bunch is cook. We don't have dues, by-laws, much organization or structure. That is not what Joe Moss is all about. We have fun in everything we do and if you would like to be an Official Joe Moss Member, join us at the Abilene Shrine Club on the first Monday and we will put our short-form degree on you.
Directors Staff - San Angelo, TX
Meetings: Monthly at Stated
2915 Loop 306
San Angelo, TX 76904
Phone: NA
Unit Head: Coming soon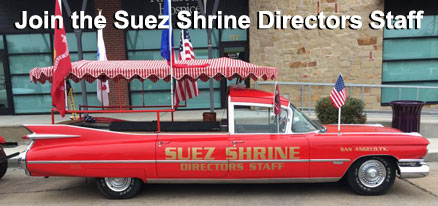 The Directors Staff helps Suez, it's members and the Divan put on Ceremonials and make new Shriners. We haul a trailer around with all of our gear, wear the cool red coverall and have the Directors Staff Badge on our fez. We also come up with new fun things to add to our Ceremonials and for competition at TSA. We would love to have you be a part of the fun.
Greeters - San Angelo, TX
Meetings: 3rd Monday
2915 Loop 306
San Angelo, TX 76908
Phone: NA
Unit Head: NA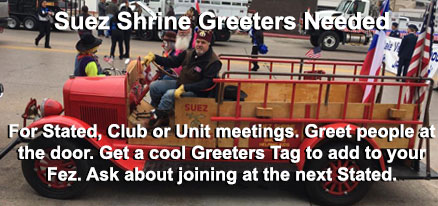 Some of our Greeters rolled out the Suez Fire Truck for the San Angelo Rodeo Parade and we ended up winning 3rd Place for Antique Vehicle. We didn't even know that there was a competition. This is just one of the many things that we can do. We hold the door and greet those that attend our Stated meetings and Club Socials. Come down to a Stated Meeting and ask about joining the Greeters.
Road Kill Cookers - San Angelo, TX
Meetings: 3rd Monday
2915 Loop 306
San Angelo, TX 76904
Phone: NA
Unit Head: Tommy White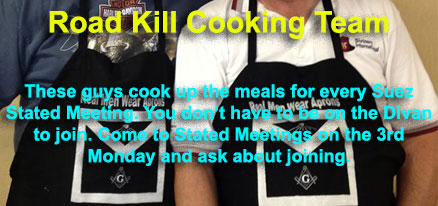 Did you know that you can join the Road Kill Cookers? You bet. It is not just for the Divan. We show up early for Stated Meetings, slap on an apron and prepare the meal once a month. It is a fun time to visit, bond and serve our fellow Nobles and Ladies. Join us early on the next Stated Meeting if you would like to join us.
Nolan County Fire Brigade - Sweetwater, Tx
Meetings: Sweetwater Club Social
Sweetwater Shrine Club
Sweetwater, Tx 79556
Phone: NA
Unit Head: Miller Walker, Director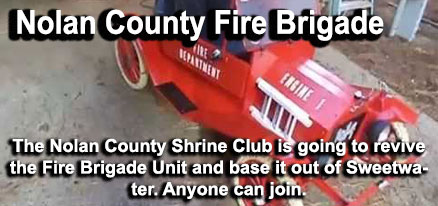 A big thanks goes out to Joel, Josh and all of the boys in Nolan County that are really doing a great job. We have a few carts and Tin Lizzies that we have been working on and building and there is also the Fire Truck. We love to take them out, show them off and ride them in parades and feature them at events. You don't have to live in Sweetwater or Nolan County to be a part of the fun, just look us up and give us a call. If you have spare time and would like to get more active, we would love to have you be a part of this new unit.
Mulberry Canyon Unit - Merkel, Tx
Meetings: Not set yet
Coming Soon
Merkel, Tx Coming Soon
Phone: (325) 733-6889
Unit Head: Jerry Jones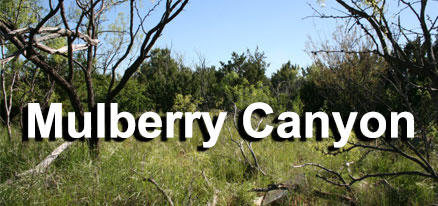 Mulberry Canyon is an area South of Merkel, Tx. Suez owns 12 Acres of land in Mulberry Canyon. That land was given to Suez for Masonic and Shrine use. We have not used it in several years and thanks to Illustrious Sir Tommy White and others we are cleaning it up. A Mulberry Canyon Unit has been created and this unit has done lots of work to help revitalize this place and make it available for more Outside Masonic Degrees, RV use, picnics, family gatherings, camping and more. In the past, only one Masonic Degree a year was held at Mulberry Canyon but once we have it all fixed up, Any Lodge that wishes to join the Board can hold a degree out there based on availability. An outside degree is something very special to be a part of. Jerry Jones is heading up this unit.